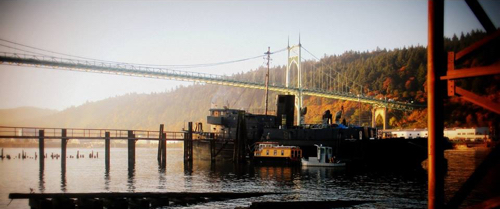 Green Anchors PDX is a 7 acre eco-industrial park with green and creative tendencies, situated on the north shore of the Willamette River, just downstream of the St Johns Bridge.
A remediated WWII shipyard, this beautiful site is home to many small businesses and artists who work out of temporary structures to sit lightly on the land.  Temporary space is available for rent year-round and is an ideal space for construction projects of all kinds, including tiny home building.
Historically, urban industrial sites have served as anchors of their communities, providing jobs and weaving rich social bonds. As many of Portland's plants have closed, these sites have been abandoned to lay fallow as vacant brownfields.
Communities are having to come to terms with this legacy, which has also come with a loss of diversity in workforce skills and wages. Reversing the resulting economic and cultural drain demands creative cross-sector public private partnerships. Recent shifts in industry have carved out significant room for innovation.
Many new sustainable industries have sprung up to mitigate the environmental costs of pollution, to reuse/renew resources, and to re-purpose traditional industrial byproducts.
However, high startup costs for new industries, limited access to capital, and tightening regulations create the need for a shared support infrastructure, one that will ensure a place to foster the growth of sustainable industries in Portland.
Green Anchors PDX envisions establishing a regional center, located on a remediated brownfield, to incubate sustainable and socially responsible economic development.
By creating a place dedicated to preparing green industries to become market viable, Green Anchors will:
Boost the local economy through job creation, workforce re-development & investment opportunities
Promote the development of environmentally beneficial products & technologies
Provide a forum for community engagement with emerging sustainable industries to understand the concerns they address & the opportunities that they offer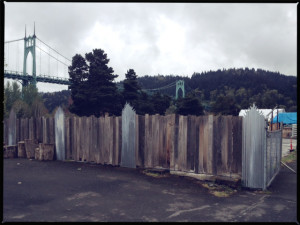 Mission Statement: Green Anchors will promote sustainable urban industry by redeveloping a remediated brownfield into a green business incubator, educational forum, and center for collaborative innovation.
Contact us to become part of the Green Anchors Community or to get involved with our latest events.