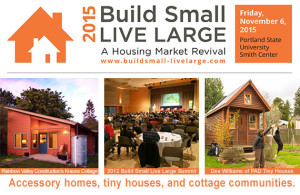 Join us at this year's Build Small, Live Large Summit!
This is a one-day event bringing leaders in the small housing movement together to talk about the issues, obstacles and solutions for building community and sustainable housing for our future.
When: Friday, November 6, 2o15
Where: PSU Smith Center (1825 SW Broadway, Portland, OR)
What time: 8AM to 7PM
We will be exhibiting Nicholette and Mitchell's tiny house at the event, including information about how to get involved with tiny house building at Green Anchors or rent space for your tiny house building project.