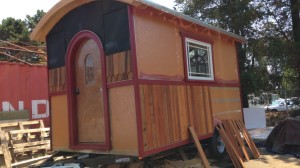 Green Anchors is the ideal space to build your tiny house in Portland, OR. Our site is an industrial park zoned heavy industry, perfect for construction projects of all kinds.  Rental space is available year-round for your building project(s).
Many tiny house enthusiasts are new to building, having little to no prior knowledge/skills in construction.  Our community offers technical support and building assistance to help you with the construction process.  Within the Green Anchors Community, we share invaluable knowledge, ideas and skills. Current tiny house tenants happily share their experiences and help inspire new tenants.  Professional building assistance and mentoring available for additional fee (please inquire for details).
Tiny home building space is $300/month

Amenities Include:

• Water

• Electricity

• Space for parking & materials storage

• Security gate (locked after dark)

Call Matt @ 503-502-6828 or Mark @ 541-390-5167 to schedule a visit
Several successful tiny home builds have already been completed at Green Anchors. We are featured in the tiny house documentary Small is Beautiful, along with some of our tiny house tenants. Check out the trailer!
Nicholette & Mitchell's Tiny House (Built in 2013)
Lina's Tiny House (Built in 2014)